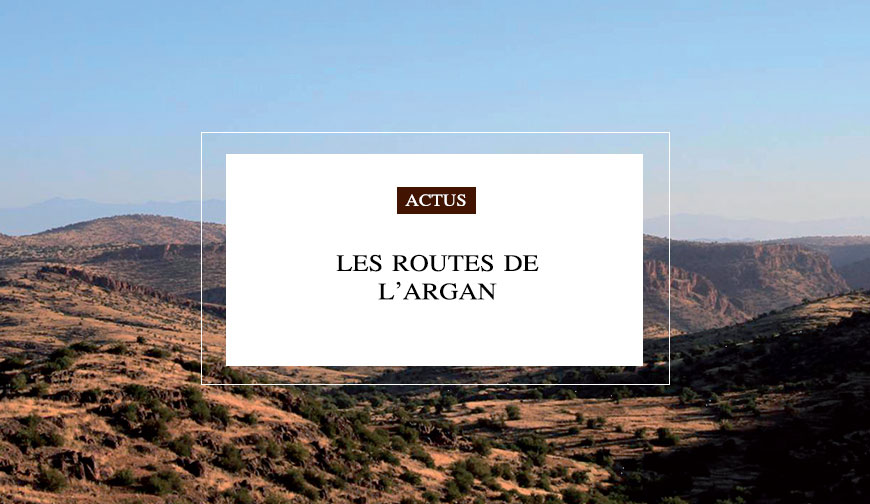 Travel on the roads of the Argan with Argandia!
THE ARGAN TREE
The argan tree is an endemic tree of Morocco, 8 to 10 m high, very resistant to the drought of the region and which lives between 150 and 200 years. It is distinguished by a specific silhouette: the top of the tree is broad and rounded, the trunk is short and gnarled, with interwoven shapes and the branches full of thorns.
The small dark green leaves are lanceolate, persistent and leathery. Hermaphrodite flowers are greenish yellow in color.
Thanks to its powerful root system, it maintains soils by maintaining their fertility, and protects them from erosion due to rains and winds.
The argan tree occupies 828,000 hectares of Moroccan territory and is the second species of trees cultivated in Morocco after the holm oak.
MAIN ASSETS
Argan oil has a very specific chemical composition which gives it an important energy contribution and many uses (food, diet, cosmetics, therapy). Its fragrance is sweet, vegetal, with a very light smell of hazelnut.
In daily care, organic and fair trade Argan Oil is renowned for its moisturizing, nutritive and protective properties. A true revitalizing treatment for dry skin, Argan Oil protects and restores the hydrolipidic film of the skin. Very fine in texture, argan oil quickly penetrates the tissues and leaves the skin smooth and silky.
ORGANIC AND FAIR TRADE ARGAN OIL
With a creamy texture, it naturally revitalizes the skin, helps limit water loss and strengthens its elasticity. Anti-oxidant and regenerating, it nourishes, protects and restores the hydrolipidic film of the skin and fights against skin aging.
Country of origin: Morocco.
Harvest: Used for centuries by Berber women for its many therapeutic and cosmetic properties, argan oil comes from the argan tree, a thousand-year-old tree that grows in an arid area in southwestern Morocco. The fruits are collected and dried in the sun. Once dry, they are pulped and the stones crushed between two stones by the Berber women.
The small almonds inside called "amendons" are sorted then roasted in an earthenware dish over a wood fire powered by the husks of the fruit.
Ratio: It takes 38 kg of fruit, or 2.6 kg of amendments to produce 1 liter of Argan Oil.
Manufacturing: These grilled fines are then crushed into a paste using a hand-turned stone known as a traditional hand mill. In order to guarantee optimal preservation of its properties, our Argan Oil is cold extracted in a closed circuit with mechanical presses then, the decantation and filtration are done in stainless steel tanks for better protection and preservation of the qualities of the oil. 'oil.
Physical and chemical properties:
Appearance: Oil
Color: Yellow / Gold
Odor: Argan oil has a very light and natural odor in any case it must not present a strong or acid odor or conversely be odorless (deodorized oil).
HIS VIRTUES
• Cosmetic use:
Argan oil is widely used as an anti-wrinkle agent and to fight against skin aging. It limits the appearance of brown spots and reduces them if necessary. It is recommended for the prevention of stretch marks in pregnant women. It is particularly suitable for dry and sensitive skin, mature skin. It is also used during significant desquamation, in the presence of acne, during burns and chapped skin for its healing action. It is also a hair fortifier.
• Properties:
Nourishing, hydrating, softening and softening. It maintains the integrity of the skin tissue, acts on the permeability and restructuring of the epidermis and dermis. It promotes healing of the skin tissue. It limits the development of brown spots. It activates the synthesis of elastin and collagen and by its anti-oxidant action, it protects them. It nourishes the skin, softens it and helps it fight against skin aging.
• Composition:
Argan oil contains more than 80% of Omega 6 and 9, unsaturated fatty acids essential for the proper functioning of the epidermis: Omega 6 limit water loss from the skin, while Omega 9 strengthen its elasticity. . It is also rich in vitamin E, which helps fight against cell aging. These qualities make argan oil the precious ally of dry and devitalized skin.
• Linoleic acid (Omega 6, polyunsaturated essential fatty acid): 36% • Oleic acid (Omega 9, monounsaturated fatty acid): 44% • Vitamin E: 62mg / 100g
Argan oil for skin care
1. Anti aging effect
Argan oil is by far the most effective natural treatment for reducing fine lines and wrinkles. It is also very effective in delaying their appearances. Its anti-oxidant effect gives it excellent properties, essential to fight against aging. It restores the elasticity, softness and suppleness of the skin.
The best way to apply argan oil for better anti-aging effect is to massage a few drops on the face and neck before going to bed. It acts as an anti-aging and moisturizer all in one. It can also be applied alone, or as a serum before applying your usual skin care cream.
2. Treats dark spots effectively
Argan oil is also effective in lightening the skin and reducing dark spots. This effectiveness has been confirmed thanks to a study which provides the scientific basis for the traditional benefits of argan oil and which shows its therapeutic potential against hyperpigmentation disorders. This study demonstrated that the inhibitory effect of argan oil on the biosynthesis of melanin is attributed to tocopherols as well as the synergistic effect of its components.
Daily application of argan oil on dark spots or acne spots gives good results and remarkable difference should be seen in 6 months to a year.
3. To hydrate your skin
Argan oil is very often used as a moisturizing and softening product for the skin. Its richness in vitamin E and fatty acids has made it the ideal product to boost your skin naturally. Argan oil is neither greasy nor irritating and is very easily absorbed which makes it a perfect natural moisturizer.
Its use for the body, face and neck is very simple. You just need to spread a few drops on your skin in circular and gentle movements, just like you would with any face or body lotion.
4. Relieve acne
When many oils and moisturizers can make skin problems such as acne worse, argan oil soothes affected skin and promotes healing. Acne is often linked to oily skin. Since argan oil is non-greasy, it helps to balance the skin by providing the natural and necessary moisture. The anti-oxidants in argan oil help soothe inflammation and restore damaged skin cells.
For more efficiency, you can apply argan oil before going to bed as a mask or night care, perform a circular massage. Without rinsing and let the oil penetrate overnight. In the morning, wash your face normally. This will help remove mild acne while balancing oily or dry skin.
5. Problems related to dry skin
People who suffer from dry skin or related problems such as eczema which presents with raw skin, peeling and itching can benefit tremendously from the benefits of argan oil. The vitamin E and fatty acids in argan oil are a great way to repair damaged skin and provide nutrients to prevent dryness and irritation. This miracle oil also contains the necessary ingredients to soothe the skin. Applying a small amount of argan oil to the skin and a gentle massage can provide relief and will promote healing.
6. Argan oil is a good treatment for feet, hands and nails.
Argan oil thanks to its softening properties is an ideal solution for dry and chapped hands, brittle nails and hard skin on the feet. It moisturizes and softens the skin, restores smoothness and suppleness to the hands and feet, with strong and healthy nails.
Application: Before going to bed, every night, try to apply a few drops of argan oil in the cuticles, hands and feet.
7. Argan oil for moisturizing the lips
Particularly during cold or dry weather, the lips can easily become sore, dry and cracked. Argan oil is a great way to ensure that lips stay plump, soft and supple. Apply a drop or two to your dry lips such as a balm - but be sure to wipe off any excess.
8. Restores and protects
The antioxidants in argan oil are generally beneficial for the recovery and healing of cracked, irritated, damaged or even burnt skin. It is desirable to use it as a preventative for dry or sensitive skin, but it is also useful in promoting recovery. Its properties help reduce inflammation, soothe pain, and encourage speed of recovery.
Applying a few drops of argan oil to sensitive or damaged skin promotes the recovery process.
Argan oil for hair care
1. Hair conditioner
Argan Oil has been proven to give hair more softness and shine. It's the perfect conditioner, and it can even help tame frizzy hair and treat split ends.
2. For smoother, shinier hair
In addition to its ability to tame frizz and restore shine to hair, argan oil is also able to play the role of a good styling agent. Argan oil makes hair more manageable and adds good shine for all hair types. This is an ideal step to include in your daily beauty routine after brushing. Spread a few drops of argan oil on your palms and then use your fingers to gently comb your hair.
Argan oil and pregnancy
Stretch marks are a real nuisance for many pregnant women, to remedy this problem argan oil is a very good solution against sagging, stretch marks and wrinkling of the skin after childbirth. Thanks to its vitamin E content, argan oil improves the elasticity of the skin. Massaging a few drops of argan oil on the breasts, stomach and thighs during pregnancy reduces the risk of developing unsightly stretch marks.
Argan oil is also recommended for maintaining the health, smoothness and hydration of the skin and hair during pregnancy.
The most important thing about this oil is that it can be used safely in its pure form and without the need to be purchased as an ingredient in beauty products like lotions, conditioners, or moisturizers. This miracle oil is extremely versatile and can
MANUFACTURING
ARGANDIA guarantees a unique quality Argan Oil at each stage of its production in a spirit of fair sharing:
Only the fruits with the pulp are harvested in order to avoid peroxidation of the fines caused by ingestion and rejection by the goats.
• The fruit is dried under the sun and is carried out collectively by the families of the collectors.
• The storage of fruits with the pulp is done directly in the village.
• Pulping and crushing are carried out by women from the Argan ESR sector, no hourly volume is imposed on them, they can work according to their needs.
The sorting of the amendments is carried out manually:
• The oil is extracted by first cold pressing in a closed circuit with mechanical presses, then decantation and filtration are carried out in stainless steel tanks for better protection and preservation of the qualities of the oil.
• The export of the oil is done in metal drums.
• The manufacture of ARGANDIA products then takes place in France, in the PACA region.
OUR ETHICAL REQUIREMENTS
Certified organic by Ecocert, Argandia products are also ESR (Solidarity and Responsible Exchange) certified by this same organization. Argandia has set up, with its local partners, a fair trade chain for Argan.
- As a partner of a local association which employs more than 350 women in Morocco, to harvest Argan. Argandiareverse to the Association 1% of its guaranteed minimum price, in order to guarantee the social conditions of the employees and a respectful management of the Argan trees.
Argan Oil, considered the gold of the Berbers, has a manufacturing secret and a traditional know-how that must be protected, preserved and taught to future generations, such is the fight of Argandia, such are our commitments for fair trade.
Our Actions Thanks to You!
- Creation of a canteen for children
- Financing of the work for a water supply in the canteen room
- 5,000 olive trees and 15,000 fig trees were offered to the villagers to diversify the culture
- Purchase of 100 sheep and their food for Berber women to feed their children and make rugs
- Public lighting of the village
- Women's Health: An annual visit by a doctor
With each product purchased, you contribute to our actions, Thank you!                                   
How to use cosmetic argan oil?
It is applied as a massage oil for the face and body. Ideal for dry hair, to be applied on the ends and massaging the scalp. To fight against brittle or damaged nails, use argan oil in a bath with a little lemon juice.
What are the virtues of argan oil?
Argan oil is renowned for its moisturizing properties for the face, body and also the hair. It allows to soften, protect and nourish delicate skin and dry hair.