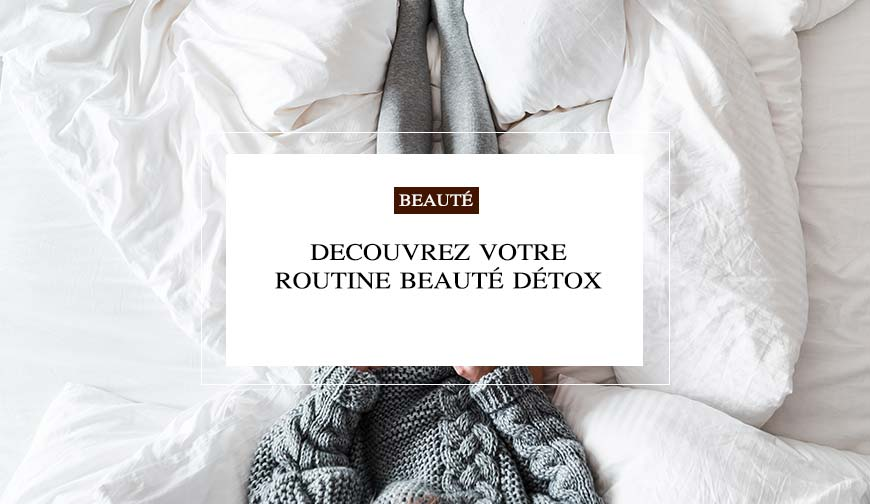 Do you have a dull complexion, tired eyes and desperate for a 100% Detox beauty ritual? Look no further, we are revealing our Detox beauty routine in 3 steps!  

# 1 Clean up!
Make-up removal is a daily beauty ritual that should not be deviated from, it is the first essential beauty step to have beautiful skin. Whether we wear makeup or not, this step is not optional because our skin accumulates toxins during the day (pollution, tobacco, stress), but also during the night, this is why it is preferable to carry out a deep make-up removal morning and evening.
Cleanse and remove make-up from your skin with our Cleansing Oil with a silky texture and delicate notes of amber!
The Cleansing Oil removes impurities in a single step, hydrates and leaves a non-greasy protective film. The Cleansing Oil turns into a gentle emulsion on contact with water to preserve the skin's natural hydration.
The Must of Cleansing Oil is that it can be used without cotton, you just have to massage the oil on your face with your eyes closed, with dry or damp hands, then emulsify with a little water and rinse thoroughly with clear water.
Our Beauty Tip: avoid rubbing your face when removing make-up, this may promote the feeling of irritation. Adopt a gentle gesture.
---

# 2 Purify!
Ideal for your detox beauty ritual, discover the Purifying Mask which will unclog, tighten the pores and mattify the skin.
The Argan Purifying Mask clarifies your complexion and deeply purifies your skin. Rich in Ghassoul, Kaolin and Organic Mint Floral Water, it unclogs, tightens pores and mattifies the skin. Thanks to the nourishing and moisturizing properties of fair trade organic argan oil and organic Aloe Vera, your skin is soft and soothed. The nourishing virtues of fair trade organic Argan Oil and organic Aloe Vera will provide you with the necessary hydration.
Our Beauty Tip:
This Argandia Purifying Mask is ideal for skin that tends to shine, it clarifies, purifies and rebalances sensitive and reactive skin, your skin is fresh and soothed.
You can apply it once or twice a week all over your face and neck or just on the T zone, avoiding the eye and lip area. Leave on for 5 to 10 minutes then rinse with lukewarm water.
The Must: then neutralize the limestone in the water with Rose Floral Water. You should know that tap water contains dry residues (limestone, minerals) which remain on the skin and dries it out. Rose Argandia Floral Water is suitable for all skin types, it softens dry skin, purifies combination and oily skin and tones mature skin lacking firmness.
---

# 3 Protect!
Your essential ally for a good detox beauty ritual, the protective elixir of organic argan.
To regain a luminous and radiant complexion, you must not ignore the hydrating, purifying and regenerating facial treatment.
The ideal is to adopt a protective, moisturizing and rebalancing treatment like the Organic Protective Elixir.
Pure organic concentrate of Argan Oil enriched with Essential Oils of Rosewood and Rosat Geranium with protective and softening properties. It will leave a delicate non-greasy protective film on the skin.
We reveal the composition secrets of our Protective Elixir to you:
Organic & fair trade Argan Oil: With a smooth texture, it naturally revitalizes the skin, helps limit water loss and strengthens its elasticity. Anti-oxidant and regenerating, it nourishes, protects and restores the hydrolipidic film of the skin and fights against skin aging.
Organic Rosewood Essential Oil: Firming, balancing and regenerating the skin, it soothes and softens the skin, giving it a velvety touch.
Rosat Geranium Oil: Tonic, purifying and restorative, it restores radiance and tone to your skin!
Our Beauty Tip:
You can apply it as a treatment if your skin needs a specific treatment such as a detox beauty routine or as an ongoing treatment if your problem is recurrent: dehydration, redness, lack of firmness, radiance.
The Protective Elixir can be applied in the morning and / or in the evening before your cream, but always on clean, dry skin.